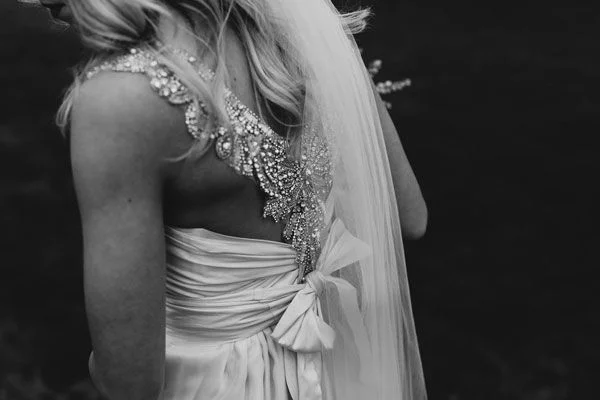 From soft and romantic to preppy and perfect, bows are such a classic wedding dress detail. Which is why we love seeing them everywhere lately, from the latest designer collections to bridal accessories.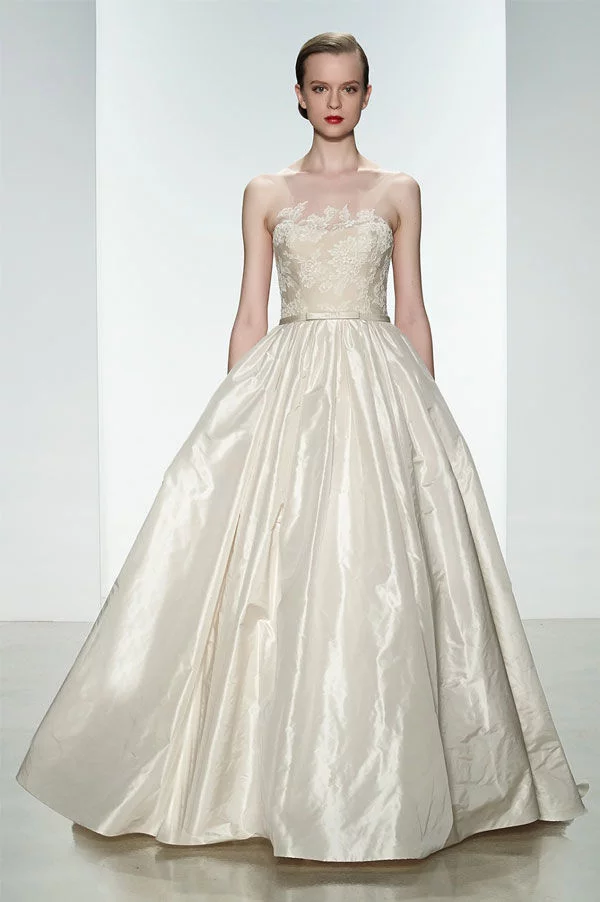 Highly structured bows like the ones in these two dresses are so much fun. You can use one in the dress above as a traditional, preppy detail, to tie together two different fabrics. or you can use it in juxtaposition with something that is definitely not quite so proper as with this sultry sheath below. The black sparkle gives it an extra glam touch.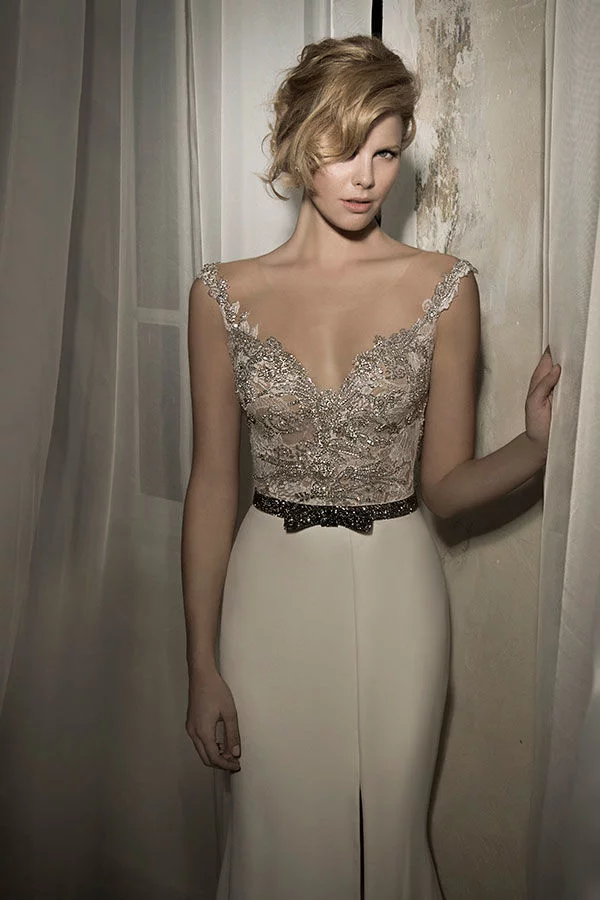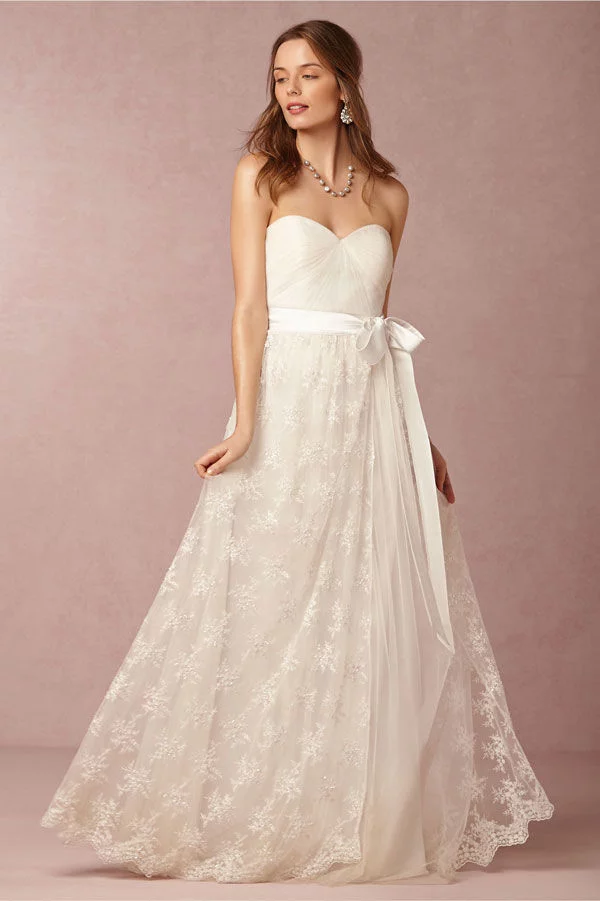 At the other end of the spectrum, loose and unstructured bows give off a bit of a boho ballerina vibe--very light and easygoing. With this dress above a bow is used with a lace overlay wrap on a sheath dress. Tying it left of center makes it look less formal and relaxed.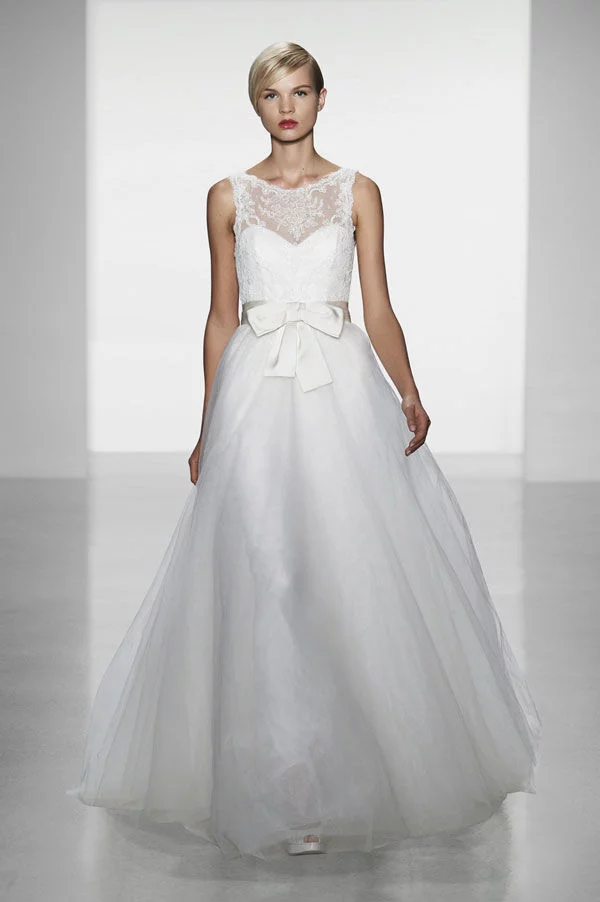 In the in between are some of our very favorite bows, those that are silky with a traditional shape ranging from medium to large in size.  Above, this classic silhouette gown gets a shot of modern with a perfectly centered and symmetrical bow.
Below, this high collared dress might look too austere for some brides without this large bow at the waist. What might have been seen as too plain before is now positively bridal. And because the bow is so large, few other accessories are needed. It's a total statement piece for your look.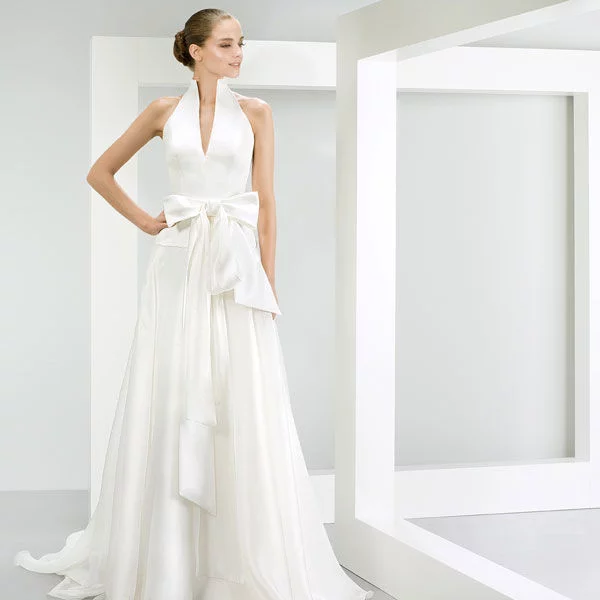 For really romantic wedding dress designs, a bow can enhance the gown's sweet femininity. These two bows below are ultra girly. The one on the left dresses up a full skirt in this voluminous gown. on the right, without this bow this see-through bodice with boning might not be quite so Southern belle. It sweetens up the edgy bodice--perfect for a bride that wants to stand out, but still look traditional in the photos.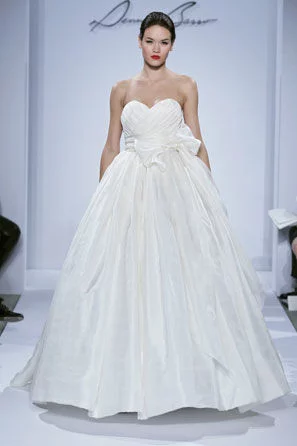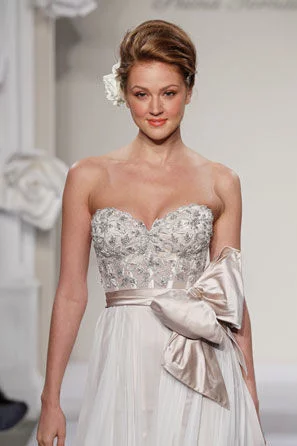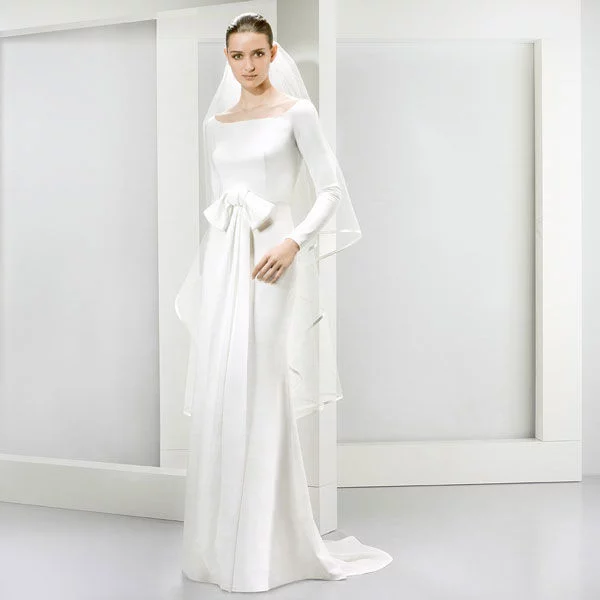 Bows are also a go-to accessory when you want your dress to have a decidedly retro vibe. Above, this sheath wedding dress with bow (sans sash), looks like a modern day take on priscilla presley. We love its sexy silhouette and gorgeous sheen!  Below, this absolutely stunning mikado dress could be worn by any starlet from the early 1960s. Its sophisticated and refined--an obvious choice for any bride that wants her wedding dress style to hold up over time (this is definitely a dress to be passed down through the generations).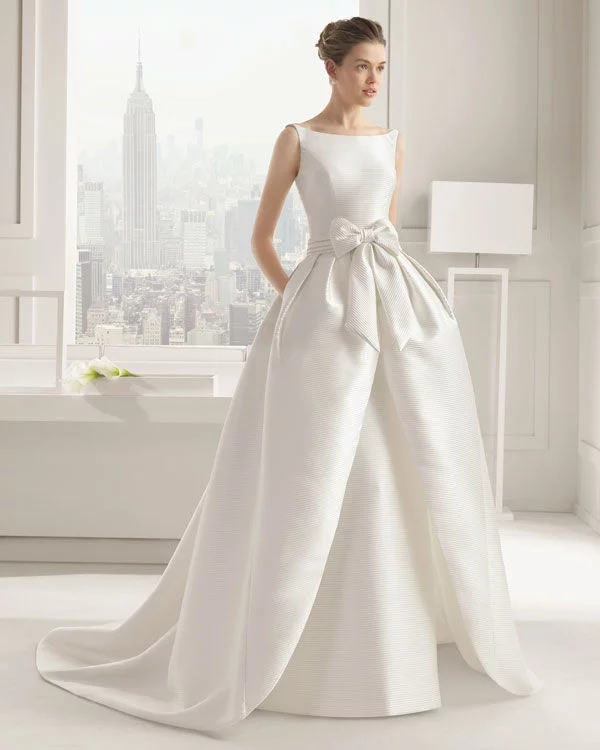 Want to wear your bow somewhere else?  We love dresses with bows at the collar. This non-traditional bridal pantsuit (below, left) pairs a halter neckline and palazzo pants with a darling tie at the neck.
on the right, check out the adorable column of pearl buttons peeking out from beneath this simple, oversized bow at the collar of this sleeveless gown.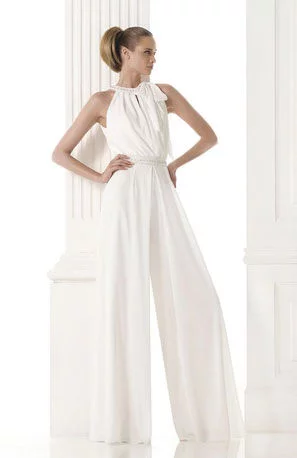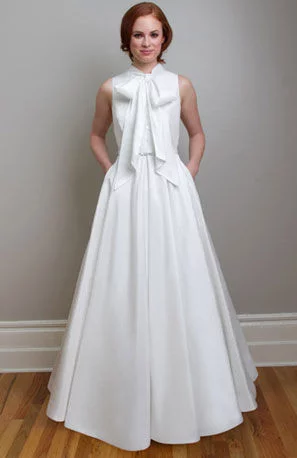 Winning the contest for most perfect bow of all time is this oversized, structured bow tying together the halter neckline (below).  Don't you dare wear your hair down and cover any of this up!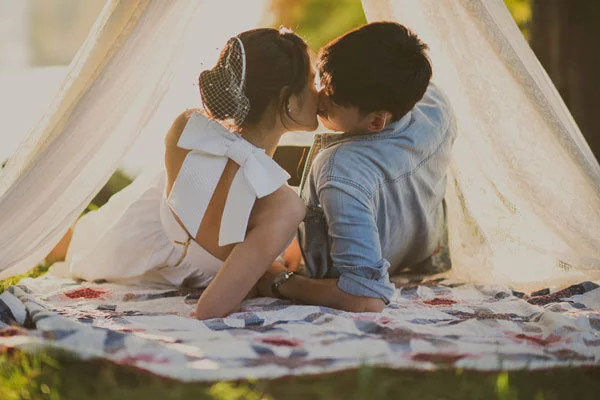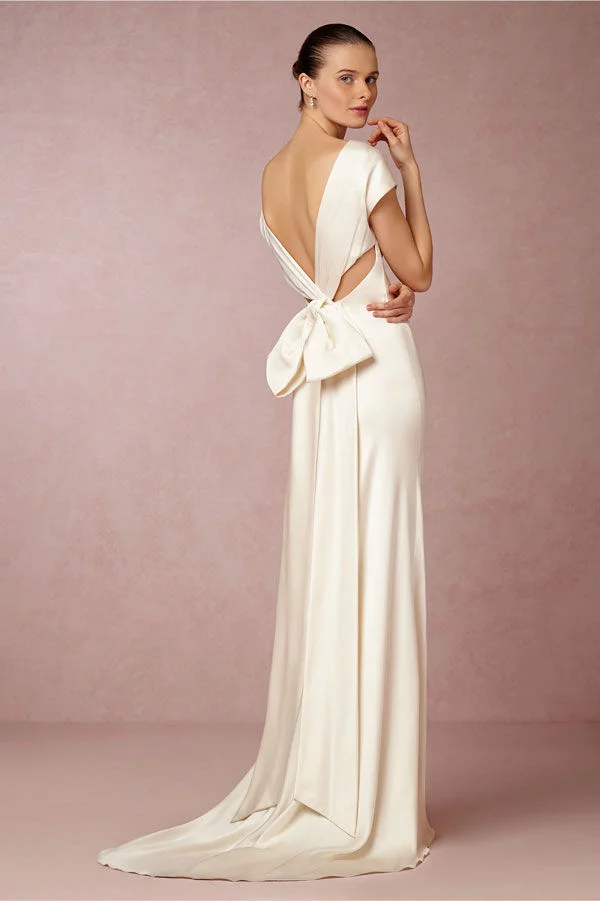 Bows on the lower back of gowns are tricky. You want them exactly in the right place to avoid it bouncing as you are walking down the aisle.  Make sure the knot of the bow falls at least several inches above your hip. These bows pictured are all gorgeous examples of the effect they can add to a simple statement back.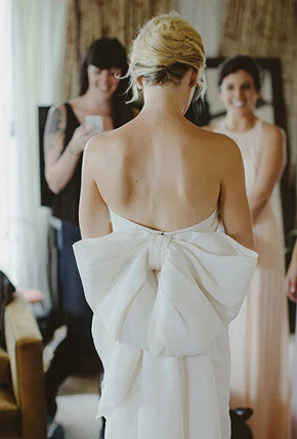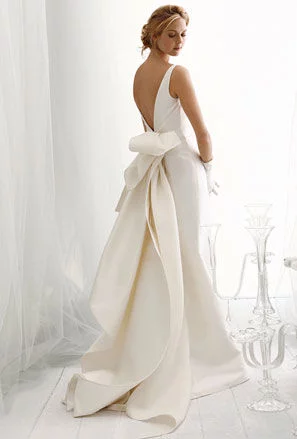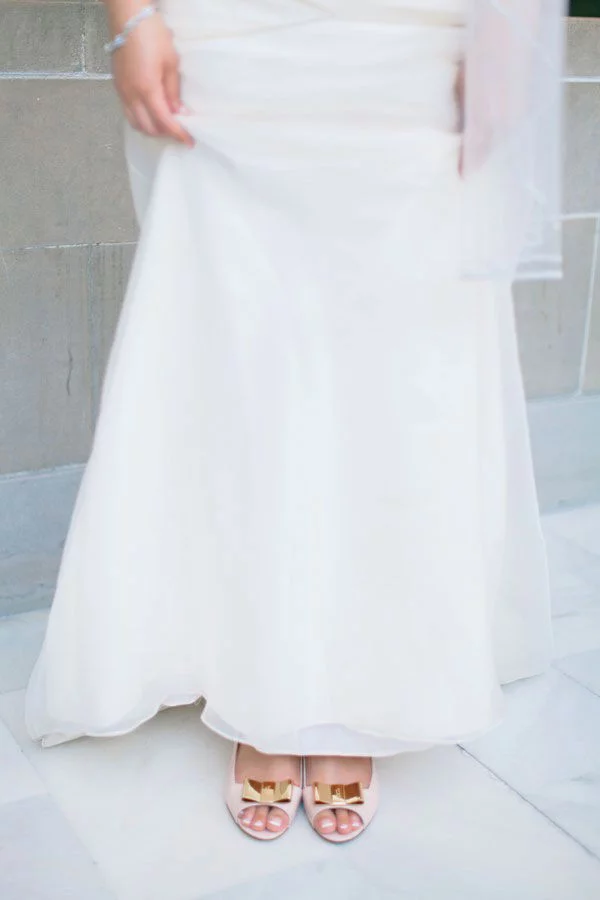 Love this trend, but already bought a bow-less dress?  There's still time to rock a bow on your wedding day!  We think this shoes are positively adorable from the gold bowed peep toes (above) to the two preppy options below from Kate Spade (left) and BHLDn (right).